Porcelain Wall Art & Sculpture
Alice Riehl creates porcelain mural installations. In Alice's artwork nature comes to life under a metaphorical and idealized shape. She captures its impressions and impulses to relate an oneiric universe and invite to a three-dimensional journey into imagination and wonder.
Alice discovered porcelain in 2003 during her training in Sèvres. Seduced by its softness, unpredictability, and capacity to reflect light, she decided it would become her medium of choice. If the combination of porcelain and laces was the signature of her early pieces, Alice Riehl started developing her mural work, nourished by the large Middle Age tapestries and their narrative patterns. They became a new crossover between textile and porcelain into her creative process. Alice entirely and exclusively models each piece in her studio located in Paris, France.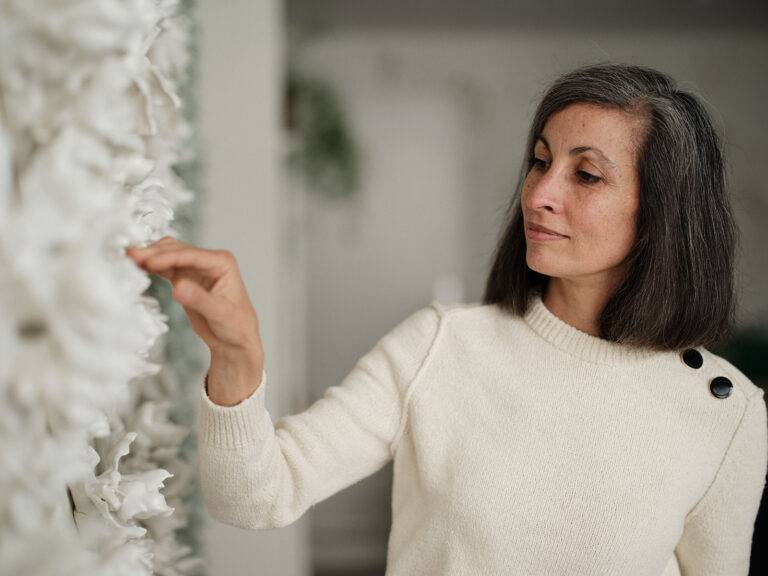 Alice Riehl collaborates with Architects, Interior Designers, Art Consultants and Galleries all around the world to create bespoke exceptional projects. She started working on wall art in 2010 to get a larger field of expression for her artwork. Since then, her wall art inhabits private and public spaces around the world: lobbies of international hotels, like the Intercontinental in Marseilles or the Four Seasons in Athens, luxury lodges, like the Holy Deer in Rome on Piazza Navona as well as private residences. In addition to hospitality and residential projects, Alice also worked on prestigious corporate and retail sites, such as the magnificent Chaumet flagship high-jewelry store on place Vendôme in Paris or the Chäteau Dauzac in Margaux in the Bordeaux area.
Alice Riehl is represented by Todd Merrill Studio
80 Lafayette St
New York, NY 10013 USA
For international inquiries about purchasing or commissioning artwork, please contact the gallery: info@toddmerrillstudio.com
For national inquiries (France) please use the contact form below.