PORCELAIN MURAL ARTIST TRAINED IN SEVRES
Inspiration
Nature comes to life and blooms into Alice Riehl's work. The intricate pattern of her wall art is an invitation to a journey through an imaginary garden. She embraces the heritage of French Decorative Arts, ornamental and porcelain, and turns it into a sculptural material that continues endlessly. Alice carefully considers each handmade detail to create a vivid harmony.
Medium
Alice moved beyond her professional corporate life when she met porcelain during her training at the French Ceramics Institute in Sèvres in 2003. Nurtured by the memory of her grandmother's needlework, she turned the peculiar texture of the combination of porcelain and laces into the signature of her work. Porcelain is soft and unpredictable. The strength of the material unveils itself in harmonies of white shades, reflecting light indefinitely.
Universal
In 2010, the beginning of the wall installations opened a world of possibilities, materialized in 2012 in two murals for the lobby of the Intercontinental Hotel in Marseille. Ever since from a former Pope apartment in a stately Roman palace, to a Taiwanese newly built family mansion, Alice Riehl's work inhabits private and public spaces in Europe, America, Middle East and Asia. A multiple scales melody that Alice composes according to her encounters and inspirations.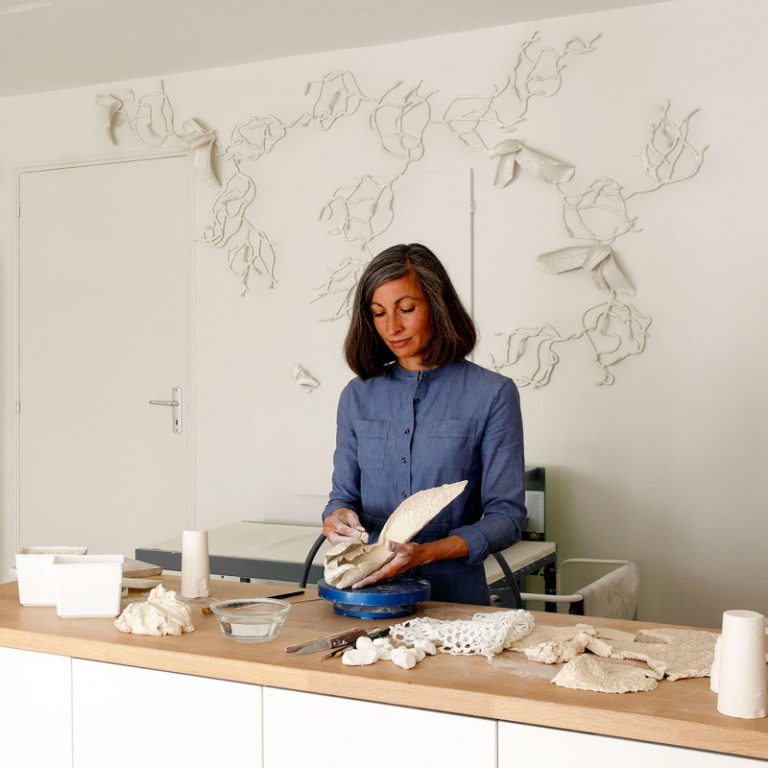 Alice Riehl in A few Milestones
2003-2004
Training at the French Ceramic Institute in Sèvres, France
2007
Opening of the studio in Paris
2010
Starts working on her first wall art installation
2012
"Algues" murals in the lobby of the Intercontinental Hotel of Marseille, France
2013
Creation of "Proteas" sculptures for H.S.H Princess Charlene of Monaco
2013
Exhibition at Palais de Tokyo Museum, Paris, France
2015
"Decrocheté" mural in the wine tasting cellar of Château Dauzac, Margaux Grand Cru Classé, France
2018
"Lignage" mural for San Lorenzo Lodge in Pamphilij Palazzo in Rome, Italy
2018
"Lignage" mural in the lobby of the Four Season Astir Palace Hotel in Athens, Greece
2018
« Homo Faber, Crafting a more human future » Exhibition by Michelangelo Foundation for Creativity and Craftsmanship at Fondazione Giorgio Cini, Venice, Italy
BESPOKE AND UNIQUE CREATIONS
Handmade By The Artist
Every artwork is modeled by the artist in her studio in Paris. Alice brings her care and attention to every single detail while keeping a comprehensive vision of the work.
Porcelain & Lace
Signature of the work, the combination of porcelain and lace ornaments the sculptures with its peculiar texture.
White & Light
The white color, pure and timeless, enlightens the sculptures. It comes in different subtle shades as a reference to clay and lace. Touches of soft tones are sometimes included to highlight the white.
Custom Made
Artworks can be commissioned for Architecture in a strong complementary relationship.