Located on the Vouliagmeni peninsula, the heart of the sophisticated Athenian Riviera, the Four Seasons Astir Palace Hotel is a contemporary-glamour seaside escape. The legendary Astir Palace from the 1960s, which welcomed prestigious guest like Frank Sinatra, Brigitte Bardot, Liza Minnelli, Roger Moore or Aristotle Onassis, was revamped into a sumptuous luxury shelter and has become the beating heart of Athenian social circles, with multiple breathtaking vistas of the Aegean Sea. Spread over 30 hectares of prime real estate, the tripartite complex of edifices unveils a sumptuous urban retreat.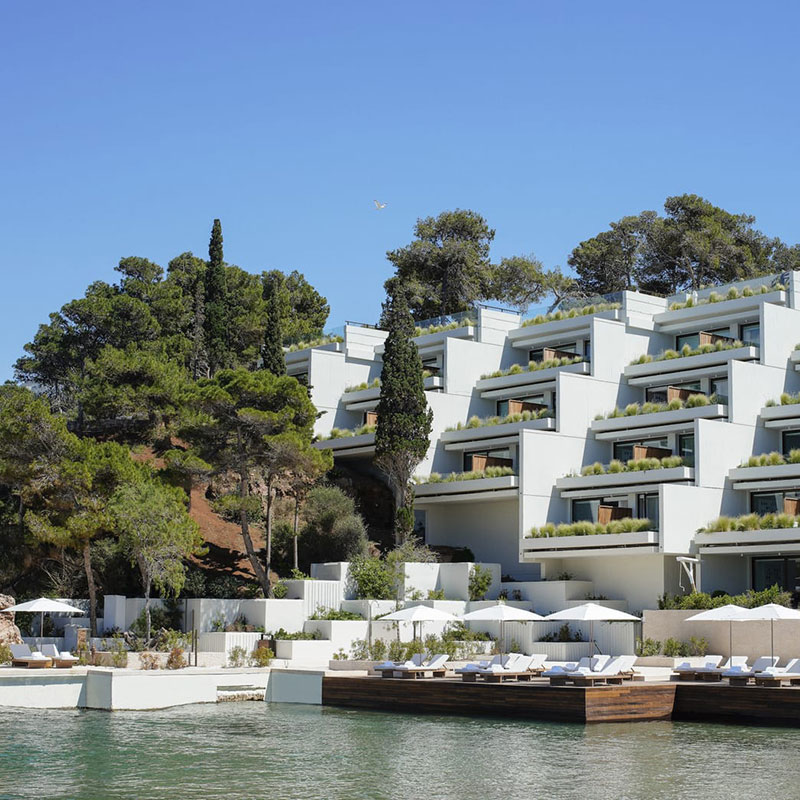 This remarkable facelift has made the palace a true gem of the Athenian coast, with the initial seaside bungalows, the elegant Arion building and the impressive Nafiska terraced architecture built in the late 1970s. While the original structures have remained relatively untouched during the renovation, the interiors tell a completely new story. Slathers of refined marble flooring, a compelling mix of textures in pastel tones and an innovative design mix with works by contemporary artists, including an Alice Riehl mural installation, create a winning design mix that is innovative, while showing respect to the property's modernist heritage.
BLOOMING PORCELAIN FLOWERS
To suit the festive and elegant atmosphere of the resort, Alice Riehl revisited one of her pieces with thriving and blooming porcelain flowers, adding a post-modernist touch in contrast with the straight lines of the premises. To the subtle shades of white, she added dark blue cobalt glaze as a reference to the archetypal colors of the country's imaginary world: blue and white. Maintaining delicacy through the softness and warmth of porcelain, the mural installation is an anthem to life and love, with blooming flowers bursting here and there. The profusion of flowers on the multiple ramifications of the trunk creates an almost abstract interpretation of plant life.